Peter Weeks from member station UG FM was the MC for the reopening of the Marysville SES HQ following the Feb 7th fires. As well as Peter's involvement with UG FM he is also an SES volunteer and SES Media Liaison Officer with the Alexandra Unit.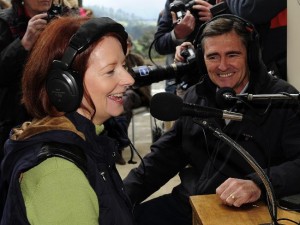 The majority of the SES Building was badly damaged and Marysville lost much of their equipment and primary rescue vehicle that has been replaced. The Victorian Historic Racing Register Club raised $28,000 to replace road accident equipment and that was also handed over. The SES Long service Medals for 10 and 30 years of services were awarded by the Premier to Marysville volunteers.
UG FM decided to broadcast some of the activities on the day with their new Tieline outside Broadcast Equipment funded by the Bendigo Bank Community Fund to the tune of $17,000 and talked live via NextG IP connection back to their Alexandra Studios and across their network of 5 transmitters.
Peter advised they were fortunate that, at late notice, the Premier of Victoria and the following day the Prime Minister both payed a visit. Both were more than happy to have a chat live on UGFM together. That's something you don't see too often.
The Prime Minister appeared to really enjoy the day. It was her first official function in Victoria as Prime Minister.
The quote of the day goes to the Prime Minister. Peter Weeks reported that following the largest media conference he had ever seen the PM told them all "Ok we have to go and talk on Community Radio now"
And they did, on UGFM!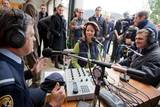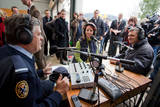 Apologies for the small images pics taken on phone