Member station 5 TCB who recently lost their production area and all their production equipment have once again proven you cannot keep the spirit of volunteers in community broadcasting down.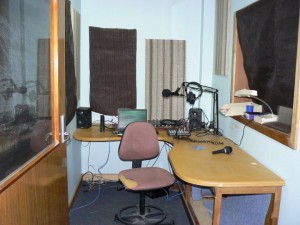 The CEO of SCMA went to Bordertown on Saturday June 12th to roll up his sleeves and assist the station to re establish a production area and to take some badly needed software to the station to get them back into the business of producing their stations needs in house.
Picture: (Left) The Temporary Production room established over the long weekend. There is still more equipment to come but this is a big start
There is a real spirit within the station and its volunteers and even though the production area is devastated and the remainder of the station smells like a bon fire they are setting about the business of being a community broadcaster.
Damage within the station was restricted to the production area thanks to some quick thinking by station staff. While the loss is huge with not only computers, panels, software and all you need to run a production studio destroyed the loss also included memorabilia, station history, CD's , paperwork and so much more.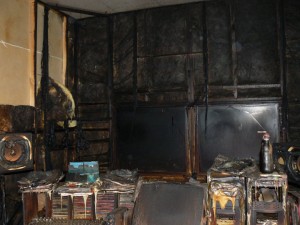 With a bit of scaping and searching we managed to find enough equipment to set up a temporary production area within the disused news production booth. While the equipment may have seen better days and wouldn't be on any wish list the bottom line is 5 TCB are now fully capable of producing whatever they need  from the temporary studio until such time as the production area can be rebuilt and re equipped.
As always I found a band of dedicated volunteers willing to assist and get the job done with a smile, a joke and some hard work along with a bit of creative lateral thinking.
You will see by the pictures within this article that they were extremely lucky that the fire remained contained within the production area.
Congratulations to the crew at 5 TCB on how well they are dealing with the damage and disruption that the fire has caused.